ELECTRO-HYDRAULIC ACTUATORS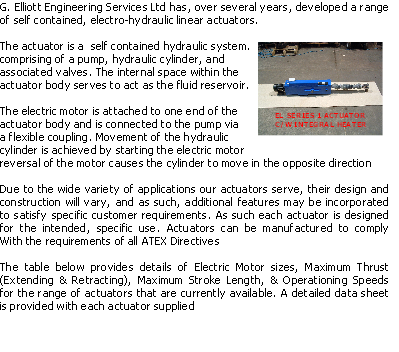 We have an "In-House" electrical capability
And are able to to undertake the Design,
Manufacture, Installation, & Commissioning
of all types of electrical control equipment. Where
Proportional, Closed Loop, control is required
we are able to write software for both PLC's

Our ELK series of actuators compliments the
"standard" EL type. It is primarily designed
where the actuator is foot mounted. The
actuator cylinder is independant of the
power pack & reservoir. Control of the
cylinder is via Pressure, Direction, & Flow
control valves mounted on the power pack.
the electric motor is mounted on the power
pack and usually, unlike the EL range,

normally only runs in one direction.

TYPICAL ELECTRICAL

CONTROL PANEL